Ethnography of Japanese Early Childhood Education: A Book Launch and Reflections on Studying Japanese Education from Insider and Outsider Perspectives
In this symposium, the authors, one Japanese and one American, will present key findings from their video-based ethnography of three Japanese preschools. This book sheds light on implicit cultural practices of Japanese preschool educators. Discussants will join the authors to reflect on challenges in studying Japanese education from inside and outside vantage points, with consideration of implications for future studies of Japanese education.
The lecture and panel discussion will be in English and simultaneously interpreted in Japanese.
No fee is required. We need to know the number of participants to book a room, so please register in advance. To register online, please go to the "Registration" below. We look forward to your participation.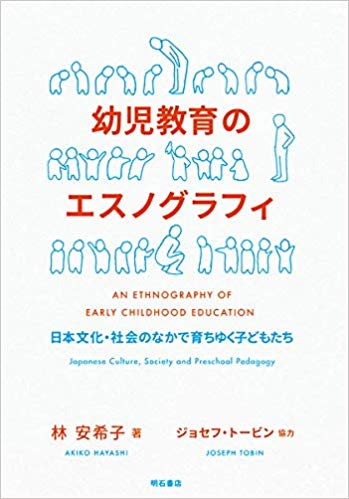 Date
Wednesday 18 December 2019
Time
16:30-18:00
Venue
Meeting room 1, Faculty of Education main building
https://www.educ.kyoto-u.ac.jp/en/contact-us/access
Fee
Free of charge
Registration
Please register by 17:00 on Monday 16 December 2019 via:
http://bit.ly/2pSQO7y
*Onsite registration may be offered subject to availability.
Presenters
◇ Akiko Hayashi
Assistant professor of Governance Studies, the Professional Graduate School at Meiji University.
◇ Joseph Tobin
Professor, the University of Georgia and the author of books including Preschool in Three Cultures: Japan, China, and the US.
 Discussants
□ Greg Poole
Professor, Doshisha University
□ Ritsuko Kumagai
Former Director, Senzan Kindergarten
□ Tadashi Nishihira
Professor, Graduate School of Education, Kyoto University
contact
info.
Global Education Office
Email: globalevent(at)mail2.adm.kyoto-u.ac.jp *replace (at) with @