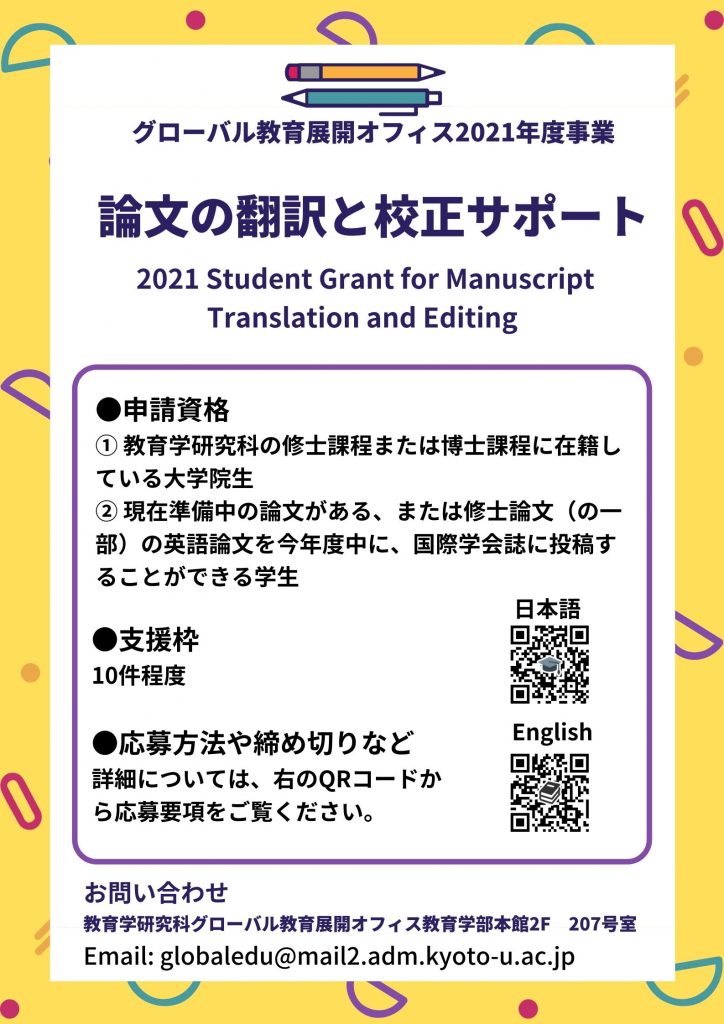 In an effort to support student research, Global Education Office of the Graduate School of Education provides full-funding opportunities for language translation and editing to graduate students. For further instructions on how to apply, please see below details.
Who's eligible
1. All graduate students who are currently enrolled at the Graduate School of Education, Kyoto University
2. Graduate students who are planning to submit an unpublished manuscript (including a part of Master's thesis) this academic year.
※If you wish to receive a grant for translation, please note the order must be completed by early November. If you are ordering an editing service, the order must be completed by late December.
Amounts
Full amount will be awarded to approximately 10 students.
Application Requirements
Students may apply via email (globaledu@mail2.adm.kyoto-u.ac.jp) and should include an abstract in a word format (approximately 250 words in Japanese). Please send us your name, level of study (e.g., M2), enrolled course (e.g., Education and Human Sciences), and intended outlet (journal name) in the message with the short abstract via email. In the subject line, please write your name and "Application for translation/editing grant".
Deadlines
1st deadline: May 31, 2021
2nd deadline October 31, 2021 →Applications are open all year round.
Terms and Responsibilities
You may apply no more than once.
The outlet must be a peer-reviewed journal, published by an international society.
The awardee should make a funding acknowledgment statement in Acknowledgments.
The awardee may use a language translation or editing service of her/his own choice. If s/he does not have a preference, the office may make an order as a representative. In this case, the service provider will be Simul International Inc. or Editage.
If the awardee orders a translation or editing service abroad (= the amount is billed in dollars or other currency), s/he should apply for an amount equivalent to Japanese yen on the billing date.
The awardee should notify the office shortly after s/he has completed submitting a manuscript.