In this invited talk, Dr. Satoko Hiura, an associate professor at the National Museum of Japanese History, will talk about colonial education reflected on official school documents in Taiwan and Korea under and after the Japanese colonial rule.
The lecture and panel discussion will be in Japanese and simultaneously interpreted in English. If you wish to use this Zoom function, please download the latest version in advance.
To register online, please go to the "Registration" below. The Zoom meeting link will be sent to you after registration via email.
We look forward to your participation.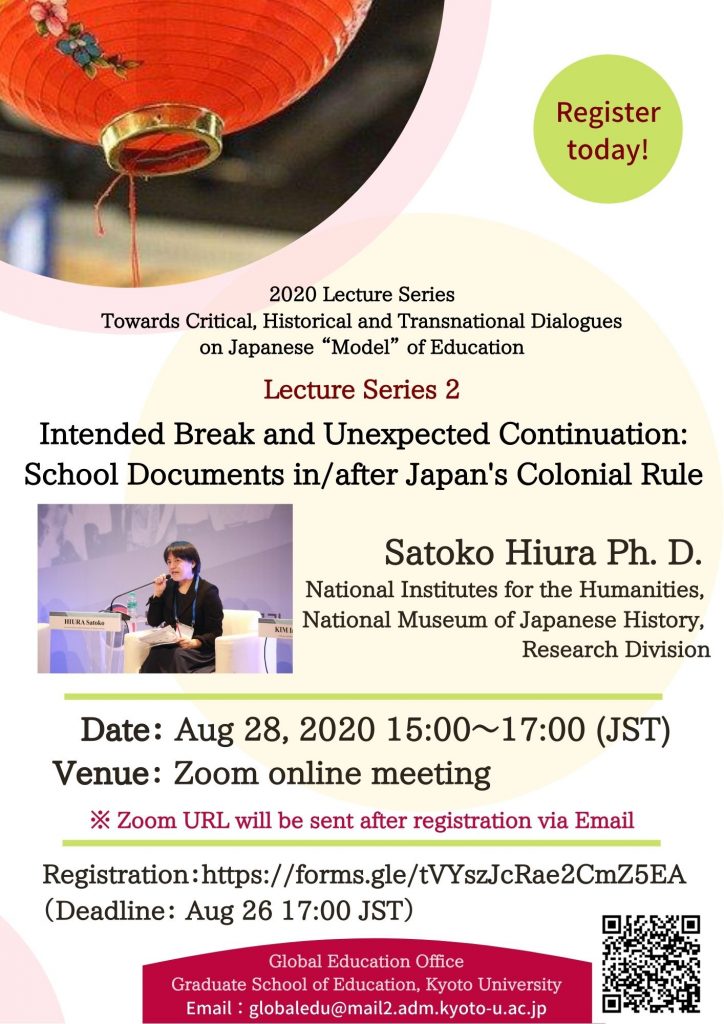 Date
Friday 28 August 2020
Time
15:00-17:00
Venue
Zoom meeting room (online)
Fee
No charge
Registration
Please register by 17:00 on Wednesday 26 August on:
https://forms.gle/tVYszJcRae2CmZ5EA
*Please make sure that your email address is correct.
Presenter
Satoko Hiura
Associate professor, National Museum of Japanese History
Contact
Global Education Office
Email: globaledu(at)mail2.adm.kyoto-u.ac.jp
*replace (at) with @
Website
https://global.educ.kyoto-u.ac.jp/en/home-en